What I'm Reading: a Leo da Vinci bio and a gritty Western
Welcome to Edition No. 1 of my books newsletter! Many have asked over the years about what I'm reading, so here we go. Every week on Fridays, I'll send out an email detailing the couple of books I've finished that week. At any given time I'm reading a handful of them, and I tend to finish 1-3 per week that I can tell you all about. I'll also throw in other bookish tidbits from time to time, like what's been sent my way (I tend to get 5-7 books per week from publishers eager to get coverage on Art of Manliness), my favorite books from previous years, the occasional giveaway, and other fun stuff.

Let's do this.
"In addition to his instinct for discerning patterns across disciplines, Leonardo honed two other traits that aided his scientific pursuits: an omnivorous curiosity, which bordered on the fanatical, and an acute power of observation, which was eerily intense."
Walter Isaacson has written a number of my favorite biographies, including Steve Jobs, Benjamin Franklin, Einstein (his only work I have yet to read, but it's on my bookshelf, and I know it will be great), and a sort-of biography called The Innovators. I recently finished his latest masterpiece: Leonardo da Vinci (~600 pages, published 2017).

While it's quite long, it reads easily (although not necessarily quickly — there's a difference). Because da Vinci left behind thousands of pages of notebooks, Isaacson is able to paint a vivid picture of not only da Vinci's life and cultural context of the late 1400s, but even the specific content of his days and weeks. (I promise that it's way more interesting than it sounds.)

What makes the book truly stand out are the number of full-color pictures of da Vinci's paintings, drawings, and notebook entries. You get a much greater appreciation for his work (like Mona Lisa and The Last Supper) when you can actually see it on the page. And it wasn't just the paintings; da Vinci's anatomy drawings, for instance, are beautiful in their own right, and created a style that would replicated by experts up through the present day.

da Vinci was a serial procrastinator, and unable to finish all but a handful of his planned and commissioned projects, which makes him surprisingly relatable. It's a book that the average reader can glean far more practical life lessons from than, say, Einstein or even Jobs, who were more just naturally geniuses. And unlike his other books, Isaacson actually concludes the biography with a number of applicable ideas that he himself took from studying the life of the great Italian master.

Isaacson does insert his own voice into the story a little more than usual, and probably a little more than I would have preferred, but it was still a delight to read.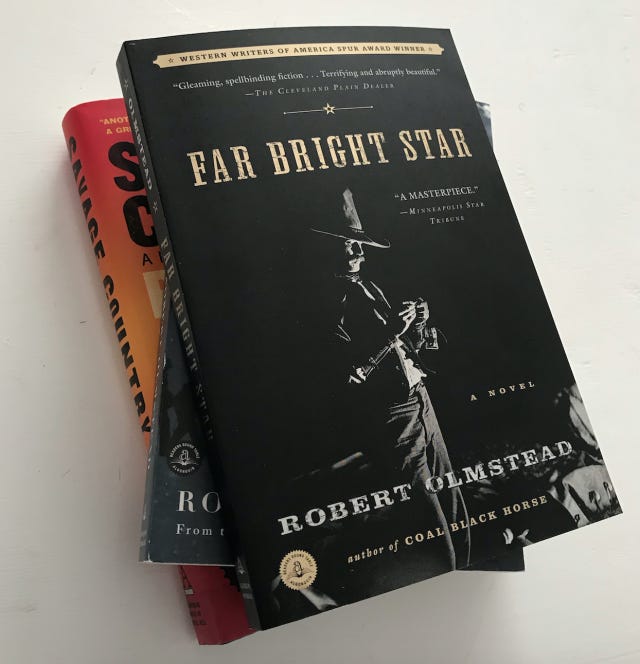 "He could not remember when he stopped hating those who were trying to kill him. After all, he was trying to kill them too. . . . He wasn't sure, but no matter, it wasn't good to hate. It always seemed to get in the way of doing the job, always seemed to take more than it ever gave back, always seemed to get the hater killed sooner than he otherwise might have been killed."
For the last year or so, I've been reading Western novels for an Art of Manliness project. I've read dozens of them. Short. Long. Old. New. I've hit 'em all. After reading a few of his works, one of my favorite authors in the genre has become Robert Olmstead. Most recently, he wrote Savage Country (300 pages, 2017), about a crew that undertakes a massive buffalo hunt (harvest, really). That was a marvelous, brutal book. "Savage" really describes it well.

This week I finished an older title of his, which is the middle part of a trilogy. (Though the plots are not necessarily connected, the main characters are descendants.) Far Bright Star (220 pages, 2009) is the simple story of a small band of US Army soldiers, led by the aging Napoleon Childs, who are on the hunt for Pancho Villa. While searching for him in the desolate Mexican landscape, they encounter a terrorizing group of marauders. As with all of Olmstead's work, it's a gruesome, unforgiving tale.

So why read it?

Well, the Old West was a brutal and unforgiving place. There's something to be said for knowing the history of the land I inhabit. (While I obviously don't live in Mexico where this particular story takes place, Colorado is steeped in Old West culture and history.) Beyond that, Olmstead's voice is movingly poetic. He's not just violent for the sake of violence; there's redemption in it too. There's an odd beauty to be found within the desolation of the story.

I look forward to reading the other books in trilogy: The Coldest Night (300 pages, 2012), which is sitting on my shelf, and Coal Black Horse (240 pages, 2007), which I don't yet own, but assuredly someday will.

A Couple Concluding Notes:
If you buy something via one of my Amazon links, I make a truly minuscule amount of money in return.

I welcome your feedback! Reply to this and let me know what you think of the format, what you'd like to see more of, what YOU are reading, and/or your thoughts on what I'm reading.

It's easy to sign-up for my newsletter, so please spread the word if you can think of someone you know who might get something out of it. Simply go to tinyletter.com/jeremyanderberg.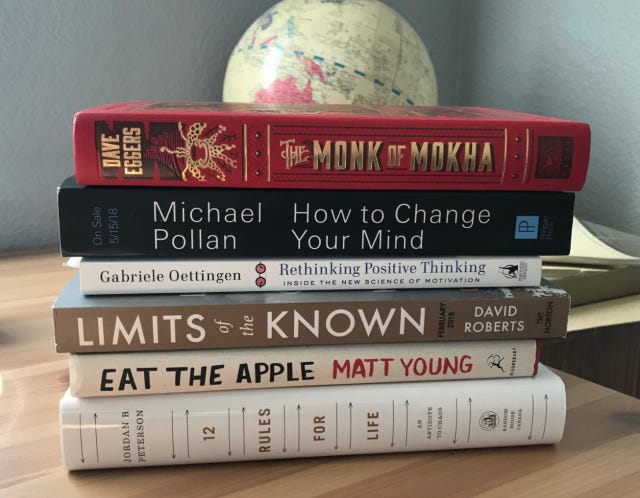 A look at what was sent my way this week so far. A new Dave Eggers non-fiction work (I've read everything of his and can't wait to dive in), a Michael Pollan book coming out in May, a new book by the controversial Jordan Peterson, and more.