What I'm Reading (No. 4): Alaskan royalty and a look back at 2013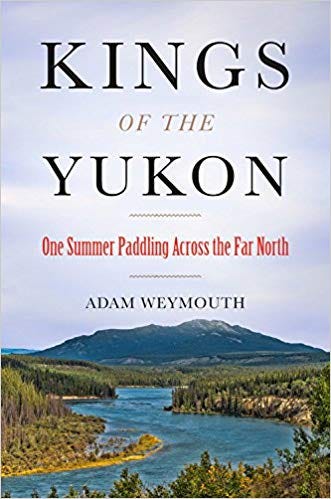 Kings of the Yukon (286 pgs, 2018) doesn't come out until May, but I received an early copy to review and plowed through it. Given the subtitle of the book — "One Summer Paddling Across the Far North" — it seems like the narrative would largely be a travelogue. And while that's certainly part of it — author Adam Waymouth canoes about 2,000 miles down the famed Canadian/Alaskan river — it's mostly about the Chinook (or "king") salmon, and the people in the villages along the way who rely on that fish for sustenance, both physically and economically.

The Chinook salmon is undoubtedly in decline, and so Waymouth ventures to find out why. You'd think that climate change would be the ultimate culprit, but he comes to find that the real reasons are much more complicated, and go all the way back to the discoveries of gold and, later, oil.
While a book about a tasty fish may not seem, at first blush, to be a terribly exciting read, Waymouth himself notes that "this is a story, above all else, of relationships, of the symbiosis of people and fish," and keeps the pages somewhat inexplicably turning to the very end. Check it out and put it on your list if you're into frontier reading, or environmental stuff. And also maybe if you're just bored with what you've been reading lately; it's certainly something different, and if nothing else, very well written.
What Has Stuck With Me 5 Years Later
I did finish another book this week — The Big Sky by A. B. Guthrie (400 pgs, 1947) — but I didn't much enjoy it, so I won't bore you with the details. It was for my ongoing day job project to find the best Western novels. This book will not be included in my list, even though it is often found on other "top Westerns" lists. A bit too depressing and generally racist. Granted, a lot of old Westerns are, but not with the level of vulgarity of this one.

Anyways, in light of having just one book to feature this week, I thought I'd take a look back to 2013 and share the books that have really stuck with me 5 years later (I've been tracking my reading for about 10 years now, so this is easy to do). These aren't necessarily just my favorites, but those whose characters and main themes are easily recalled — the ones that have imprinted themselves permanently into my memory. In no particular order:
It's pretty interesting to look back and see that this was a period where I was catching up on my classic lit self-education. I wasn't a great student in high school, so I skipped out on a lot of assigned reading and missed out on many of the world's great books. They really are considered classics for a reason; they've stuck with me, and I'm sure I'll read most of 'em again. (Someday I'll write about why it's so good to re-read books; it's like watching a favorite movie or TV show again and again.)

Do you remember any books you read 5 years ago? Anything that has stuck with you to this day?

As always, thanks for reading!