What I'm Reading (No. 6): classic novels of the frontier
Somewhat on accident this week, I ended up finishing a couple classic novels of the frontier genre. These are sort of Westerns, but instead of "cowboys and indians" they're more about life — and usually its hardships — on the frontier of America in the 1800s (usually the great plains of Kansas/Nebraska and the Rocky Mountain region). They tend to tell a really interesting aspect of our nation's story, and they don't often come with the blatant stereotypes and/or racism often found in old cowboy/indian stories.

Let's do this.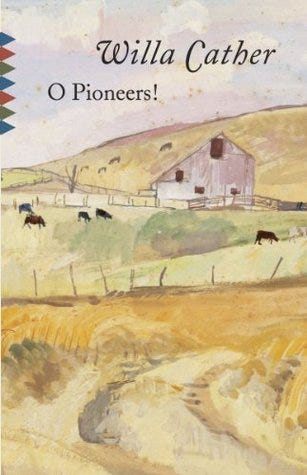 Published in 1913, O Pioneers! (161 pgs, and most editions are actually less) has long been considered a classic not just of frontier literature, but American lit as a whole. It's a short novel, but packs a punch, with superb reflections on the nature of, well, nature (and particularly our human connection to it), and family and community relationships in a harsh and unforgiving landscape. It had been on my list for quite a long time, and I loved it from the first page.

The star of the novel is the tough and headstrong — in the best way — Alexandra Bergson. She's teenaged at the start of the novel — caring for her dying father and learning how to run not only a Nebraskan farmstead, but her brothers as well, who are headstrong in the worst way. When the elder Bergson passes, Alexandra takes charge, forsaking her personal life and making unconventional choices in a land that's being deserted by most of its inhabitants. And for even more reader enjoyment, there's some romance and surprising plot twists thrown in. Alexandra instantly became one of my favorite, most memorable characters in classic literature.

O Pioneers! is the first of Cather's "Great Plains Trilogy," followed by The Song of the Lark and My Antonia. The stories and characters aren't connected at all, just the prairie landscape and the badass women who live and work there. I of course plan on reading those, and a few others of hers outside the frontier genre that are also considered classics — namely Death Comes for the Archbishop and the Pulitzer Prize-winning One of Ours.

Willa was a fascinating woman in her own right, spending 13 formative years of her childhood in Nebraska, but then moving to Pittsburgh, and eventually New York as a working, writing adult. Those times on the frontier were obviously vividly remembered though, and made enough of an impact for her to pen some great American classics on the topic.

Fun fact: The title is said to have come from Walt Whitman's famed poem "Pioneers! O Pioneers!" I'm not much for poetry, but it's always been one of my favorites. Give it a read if you have a chance.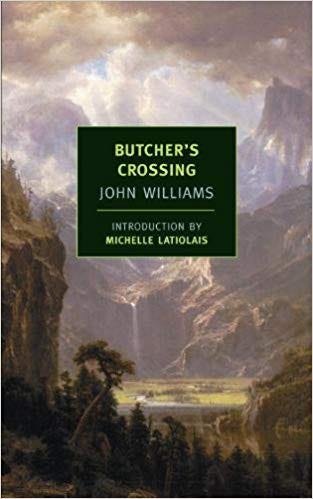 Amongst the almost two dozen classic Western/frontier novels I've read in the last 6 months or so, Butcher's Crossing (297 pgs, 1960) easily took a place in my top 3.

Considered one of the first of the genre to de-romanticize life on the frontier, the story is set in the 1870s and follows young Will Andrews, who has ditched Harvard, and been inspired by Ralph Waldo Emerson to come West in order to find . . . something. Meaning? Purpose? Himself? All the above, I suppose.

Butcher's Crossing is the small Kansan town he lands in, but shortly thereafter joins a buffalo hunting expedition that heads into the mountains of Colorado. They deal with everything the Old West has to offer: extreme dehydration and thirst, early snowfalls, feisty animals (both domestic and wild), and raging spring-time rivers — all set within a merciless buffalo hunt (slaughter, really). The pages flew, and I finished it in just a few days.

It sort of ends up being a classic coming-of-age story. Will Andrews just happens to do so by escaping to America's frontier and trying to prove himself amongst the hardiest group of men he could find. Like any protagonist in a coming-of-age novel, he learns some hard truths not only about the land, but about his own make up. But, he also does find something meaningful, and ultimately has to choose between going back East, or venturing even further West. I legitimately didn't know what he'd choose to do until the very end (and I won't tell you, of course), which I think is a sign of a superbly-written character.

This book reminded me a lot of Robert Olmstead's Savage Country, which I mentioned about a month ago. Namely because they're both about large buffalo hunts. Butcher's Crossing was far better.
Bookish Notes
I'm about in the middle of Tara Westover's Educated. It's been getting a lot of good press, and for good reason. It is inevitably compared to Jeannette Walls' The Glass Castle, but I like this one better. Should be able to finish it by next week's newsletter.

February is coming to a close, so also next week I'll give a rundown of my reading for the month, including my 3 faves.

I know there's been a lot of Westerns here in the first couple months of this newsletter; only another month or so of those before I'll have that reading project finished up, and I'll be in a far more diverse mode.
Thanks for reading, and let me know what you've been enjoying this week!

-Jeremy