What I'm Reading (No. 8): C. S. Lewis and a legendary storm chaser
Most of C. S. Lewis' writings are better known than The Great Divorce (107 pgs, 1945). It's a short little allegory that imagines what heaven and hell might be like. As Lewis himself notes in the preface, though, the moral of the story is not so much to give description of those places, but to show how humans might actually reject heaven and instead choose hell (which he imagines as simply a mundane, shallow, lonely existence rather than being a place of everlasting fire and torture).

Taking cues from Dante's Divine Comedy, our unnamed narrator is a "Ghost" — being guided by none other than famous minister George MacDonald (as Dante is guided by Virgil in the Divine Comedy). The traveling pair are in heaven's foothills, walking up and into the mountains (where the real deal is). Along the way they encounter other Ghosts, who, after learning more about their environs, simply choose to walk back to hell rather than continue on — there's in fact something they'll have to give up in order to reside in heaven. A wife doesn't want to give up controlling her husband; a parent doesn't want to give up a co-dependent relationship with a son; a man is furious that a neighbor of his "got in" who had committed far more egregious sins.

I've read most of Lewis' other works, including the Narnia series a couple times. Compared to his other books, The Great Divorce is a little hard to understand at times. That's partially just the nature of allegory (defined as a story with a hidden or sometimes hard-to-discern meaning) — the moral has to be sussed out and deeply contemplated. This is a story that is sure to reveal new meanings and insights on subsequent readings. All that said, I did enjoy it, and I think there are insights to be gleaned for even the non-religious.

My own takeaway from this first reading is that whether we experience bits of hell or of heaven in our time here on earth is almost entirely of our choosing. We choose to hang on to things we know make us anxious; we choose to spend time thinking about things that make us angry (because sometimes it just feels good); we choose to be in relationships that aren't always healthy or life-giving. While those choices are obviously hard, they're just that: choices. Maybe we can learn to choose more of the heavenly pieces than the hellish.

(P.S. If you enjoy C. S. Lewis, I read a good biography by A. N. Wilson a couple years back. It's a little more probing than the ardent fan might like, but I always find it's good to balance reverence with reality.)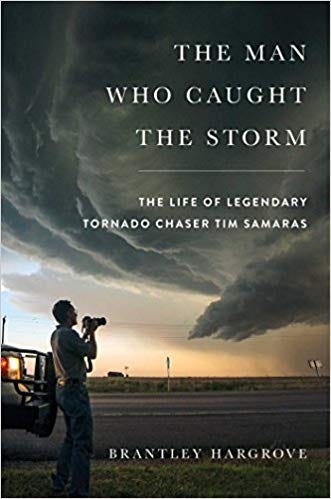 Oh man. It's been a long time since I've read a work of narrative non-fiction that has enthralled me as much as Hargrove's The Man Who Caught the Storm (304 pgs, 2018). In 2013, legendary storm chaser Tim Samaras, his son Paul, and fellow chaser Carl Young were killed in a 2.5-mile-wide twister in Oklahoma. Believe it or not, given the dangerous nature of what they do, those three were the first chasers to ever be killed while hunting a storm.

This book is not only Tim's story, which started with him as a bright-eyed young engineer who became obsessed by the "Black Wind" of the plains, but also the story of tornado science and prediction. It's a real-life version of Twister (by the way, how is that movie 22(!) years old), with competing storm chasing teams and all. As the underdog and outsider, Tim quickly proved his worth in the community, and changed forever how meteorologists and forecasters would understand the most powerful winds on Earth.

Growing up in the Midwest, and being one of those folks who ventures out to the front porch when the sirens blare, the topic naturally struck a chord in me, and I plowed through the book in just a few days. Beyond just the compelling story, though, Hargrove's writing is magnificent. He perfectly and poetically captures the allure and even destructive beauty of tornados, and what drives people to put themselves in harm's way to — as the title says — catch the storm.

The book publishes in a few weeks, arriving just in time for tornado season to commence; be sure to get your hands on a copy as soon as you can. I already can't wait to see what Hargrove is working on next.

Bookish Notes
Next week I'll share a book that I first read 2.5 years ago during middle-of-the-night wakings with my newborn son. It devastated me in the best way, and it's one of the only times I've legitimately bawled at the end of a book. I'm reading it again now when holding my newborn daughter, and it's just as good, if not even better. It has firmly entrenched itself into my top 5 favorite books of all time, and is one I already know I'll read again every few years. Can't wait to tell you all about it.

Also next week I'll do a giveaway; haven't decided which book yet, but it'll be a good one, so stay tuned.

I read about half of The Searchers (352 pgs, 1954) over the last couple weeks, and had to put it on hiatus, not for lack of interest or quality necessarily, just time, and having a few other things I was more interested in finishing. Give it a read if you want an entertaining, no-frills Western to read.
Thanks for reading, and let me know what you're reading this week.

-Jeremy